2018 SO FAR – a review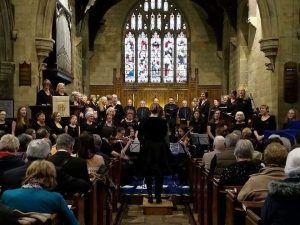 SATURDAY APRIL 28TH 2018 at St Mary's Church, Bolsterstone.
What an amazing evening we had! We were delighted to have a very warm response from the audience, which included a very special gentleman who is celebrating his 100th birthday.
The concert was a commemoration of the 100th anniversary of the end of World War One with poetry, readings and music. Devised by Christine Herbert, directed by Rachel Atkinson, and performed by members of Waldershelf Singers, the programme included a selection of choral music from The Armed Man by Karl Jenkins. We were delighted to have a 12 piece orchestra of talented local musicians. Piano accompaniment was by Claire McAuley. A drumhead service was performed by young RAF cadets and the Royal British Legion.
A donation was made to the Royal British Legion at the close of the concert.
On Saturday 12th MAY we performed at a pop-up show – part of the CLASSICAL SHEFFIELD Music in the Round week. This took place in the Winter Gardens, Sheffield and we sang a selection of music from our Bolsterstone concert. We received a warm reception – the acoustics there are fantastic! At the end of our set we joined Vivacity choir, conducted By Claire McAuley, and sang Benedictus and L'Homme Armee from The Armed Man – a Mass for Peace by Karl Jenkins.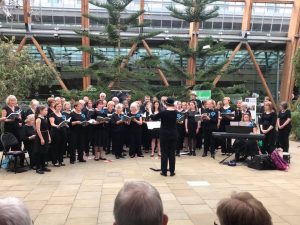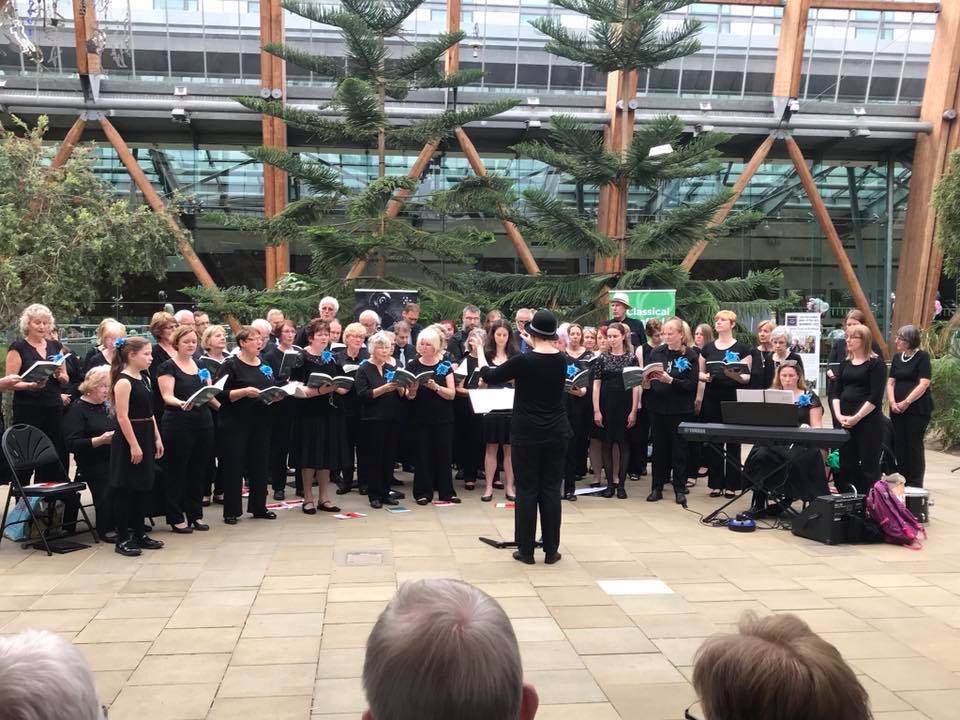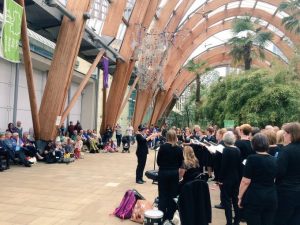 On Saturday 30th JUNE we had a fabulous evening at the Venue, Stocksbridge, singing songs from the Movies and Musicals with Millhouse Green Male Voice Choir and performing to a packed audience. Thanks to everyone who took part on stage and behind the scenes – a memorable night! We welcomed guests from the Stocksbridge Neurological and Brain Injury Rehabilitation Centre, and afterwards were delighted to be able to make a donation of £550 from concert proceeds.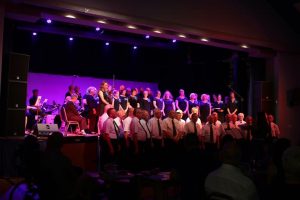 TESCO BAGS OF HELP
Waldershelf was awarded £1000 from Tesco Bags of Help scheme following a vote by their customers during May and June. This was a great boost to help our preparations for the concert at Sheffield Cathedral in October, and we thank all Tesco customers who voted for us. thank you very much
Our concert at Brightholmlee Methodist Church, Wharncliffe Side on 15th September included songs from the movies and musicals. The church raised £257 from ticket sales and raffles.
At the 50th Penistone Music Festival on 29th September Waldershelf performed 'His Eye is on the Sparrow' and 'Skyfall'. We were unplaced in a class in which 7 choirs performed, but it was well worth taking part and being able to listen to a number of excellent choirs.