FOR THE FALLEN – a concert commemorating the centenary of the end of World War One
7 DAYS TO GO!! – Have you got your ticket? See details on this image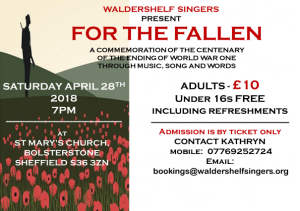 Our concert is in aid of The Royal British Legion.
Our concert programme is now complete. We are delighted to have an orchestra of local talented musicians to accompany us. Here is a taste of what it includes:
Part One will include songs from and about that time, including some which the audience will recognise and be invited to join in, interspersed with poetry specially written for this occasion by choir member, Christine Herbert, and diary readings of a local man's experiences in the War. We will be remembering and honouring local men who lost their lives between 1914 and 1918.
In Part Two we will perform the choral music from Karl Jenkins' The Armed Man – a mass for peace.
SATURDAY APRIL 28TH 2018 at St Mary's Church, Bolsterstone at 7pm
"FOR THE FALLEN" A concert with choir and musicians to commemorate the centenary of the end of World War One – music and poetry, including choral music from "The Armed Man – a Mass for Peace" by Karl Jenkins.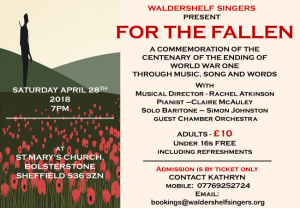 TICKETS ARE NOW ON SALE!! Adults £10 each, under 16s free. Refreshments included. Please contact Kathryn on mobile: 07769252724 or email: bookings@waldershelfsingers.org