Join us in 2019!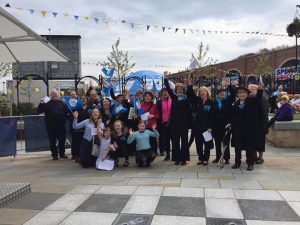 This picture shows us performing at Fox Valley for the finish of the Tour de Yorkshire
We rehearse every Tuesday evening at The Venue in Stocksbridge – 7.30pm – 9.30pm.
COME AND JOIN US -all ages welcome – particularly MEN!!
Rehearsals re-start on 15th January 2019. This is an open rehearsal so anyone interested in joining us is welcome to come along for a taster of what it is like to be in a choir.
For information please email: paulinewaldershelf@gmail.com
We welcomed several new members in 2018 and now operate a waiting list for any new Alto's and Soprano's. Tenor and Bass voices are very welcome with no waiting list for these sections currently. No audition needed – If you are new to singing and have always fancied having a go at singing in a choir, or have been a member of a choir before, come along and meet us or contact our Chair – Linda on 0114 2885779. An ability to read music is not essential – as help and support will be given. If you love music and perhaps sing a bit for your own pleasure, why not give it a go!
Rehearsals are very informal and last 2 hours with a short refreshment break. Rachel and Claire, our Musical Directors, make the evening fun, as well as putting us through our paces to get the best out of us in singing a wide variety of music -from religious and classical choral works to show music, gospel songs and contemporary music.