What's on over the coming months….
See these websites for details of other events taking place in Yorkshire:
https://classicalsheffield.org.uk/events
https://www.voicesyorkshire.co.uk/events/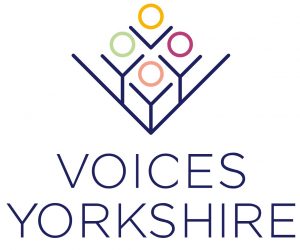 Rehearsals are back in full swing and we are planning and rehearsing  for our December events. Confirmed dates for the December concerts are below. Please put these in your diary and look out for details of times and ticket prices when they become available.
STOP PRESS
We are holding a COME AND SING rehearsal on Tuesday 24th September at 7.30pm at the Venue, Stocksbridge.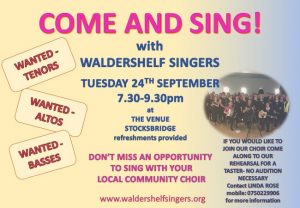 We hope to attract new members and have vacancies for tenors, basses and altos. Come along for a fun evening with music and cake.
Contact Linda Rose on mobile: 07502298906 for more information
Saturday NOVEMBER 30th 
Our annual choir trip to Haworth for carol singing in the village at various sites followed by a fish and chip supper for choir and friends. Cost per person £21 – a non-returnable deposit of £10 per person is required on booking with Pam Williams at choir rehearsals
DECEMBER
Tuesday 10th at 6pm – CHILDREN'S CONCERT at the Venue, Stocksbridge with Deepcar St John's Junior School Choir.
This family-friendly concert will feature the talented children of our local school under the direction of Anne Danks. We hope many of you will come along for a fun and festive evening.
We are not charging admission for this concert but invite the audience to make a donation on the door – all proceeds of which will go to the School Choir.
There will be a raffle (proceeds going to Waldershelf Singers)  and refreshments, with home baking on offer. Donations for refreshments will go to the Venue.
Tuesday 17th at 7.30pm – CHRISTMAS CONCERT at the Venue, Stocksbridge with Deepcar Brass Band under the baton of Cathryn Rogers. A fun-filled evening is guaranteed!
Admission is by ticket only – £7 per person (no concessions)
Tickets will be on sale in October at various outlets around Stocksbridge. Details to follow.
There will be a bar available.
We will also be out and about locally in the Stocksbridge area for community sings nearer Christmas. Please visit our Facebook page and twitter feeds nearer the time for details.
Confirmed events in 2020 are on the following dates:
Saturday May 2nd – SPRING CONCERT at the Venue, Stocksbridge – "First Night of the Proms"
Saturday September 26th – AUTUMN CONCERT
We hope to take part in the Classical Sheffield weekend in March and the Valley Music Festival in June – to be confirmed.
Our annual visit to Mapplewell is booked for Tuesday 7th July
Watch this space!