Concerts and Events in 2017 – still to come!
On the 2nd December we shall be having our annual visit to Haworth for carol singing in the village – and an opportunity to visit the Christmas market, followed by a fish and chip supper.
We are well into rehearsals of our repertoire for our December concerts, and Stocksbridge Venue will echo with the sound of carols and seasonal music!! Get in touch if you would like to join our choir – tenors especially welcome!
Concerts featuring seasonal music and local carols will take place on these dates:
12th December at St John's Parish Church, Deepcar, at 6,30pm when we will be joined by the Tremorloes and the Deepcar St Johns Junior School Choir. Refreshments are included in the ticket price of £5 and there will be a raffle.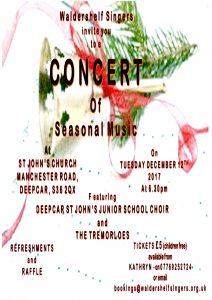 and
19th December at the Venue, Stocksbridge, with Deepcar Brass Band at 7.30pm. Tickets are £6, and there will be a bar and raffle.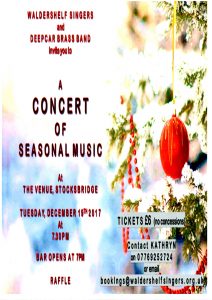 Tickets for both the above concerts are available from Kathryn – mobile 07769252724 or email: bookings@waldershelf singers.org.uk
On Thursday 14th December at 11.30am Waldershelf will be singing a selection of seasonal songs from our Christmas repertoire at the Virgin Money Lounge on Fargate, in the city centre, in support of Age Concern.
And on Friday 15th December at 6pm we shall be carol singing in Stocksbridge at the Christmas Tree on Manchester Road
In 2018 we are excited to be performing a special commemoration concert to mark the centenary of the end of the Great War which will include a selection of music from "The Armed Man: A Requiem for Peace" by Karl Jenkins on the 28th April at St Mary's Church, Bolsterstone.
We will be taking part in the Stocksbridge Music Festival on March 24th.
Our summer concert programme is being planned – a date for your diaries – 30th June at the Venue, Stocksbridge – when we will be joined by Millhouse Green Male Voice Choir for our main summer concert.