Events and performances taking place in 2018
DATES FOR YOUR DIARY IN 2018

2018 promises to be a very exciting year – with our most ambitious programme to date, the main event will be on 27th October at Sheffield Cathedral, but that is not to detract from all the exciting concerts and events we shall participate in over the earlier months.
COMING UP NEXT:
MOVIES AND MUSICALS with Millhouse Green Male Voice Choir
Saturday, June 30th at the Venue, Stocksbridge at 7.15pm
Songs from musical shows and film such as Carousel, South Pacific, Fiddler on the Roof, Guys and Dolls, Chicago, Sweet Charity, La La Land, Wicked, Skyfall, The Greatest Showman, Chess, Les Miserables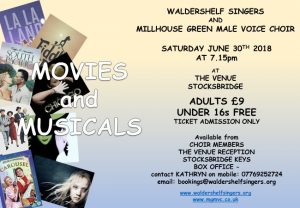 Tickets are now available from these outlets:
Waldershelf Box Office – Kathryn on mobile: 07769252724
email: bookings@waldershelfsingers.org
The Venue, Stocksbridge – cash sales only
Stocksbridge Keys, Manchester Road, Stocksbridge – cash sales only
Choir members from both choirs
Adults – £9; under 16s FREE – ticket admission only.
also see our entry for this event at https://www.wherecanwego.com
Tuesday, July 10th at Mapplewell Community Centre – Our annual visit to sing for the local community.
Saturday, September 15th at Brightholmlee Methodist Church, Wharncliffe Side
A FUND RAISING CONCERT for the Church – Details to follow
Saturday, September 29th at Penistone Grammar School
PENISTONE MUSIC FESTIVAL (50th Anniversary)
Saturday, October 27th at Sheffield Cathedral
"THE ARMED MAN – A MASS FOR PEACE" by Karl Jenkins – with STANNINGTON BRASS BAND and guest choristers from VIVACITY