2018 – a review
SATURDAY APRIL 28TH 2018 at St Mary's Church, Bolsterstone.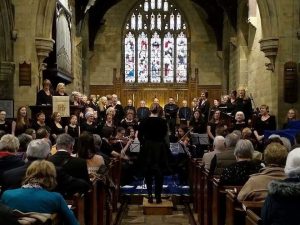 What an amazing evening we had! We were delighted to have a very warm response from the audience, which included a very special gentleman who is celebrating his 100th birthday.
The concert was a commemoration of the 100th anniversary of the end of World War One with poetry, readings and music. Devised by Christine Herbert, directed by Rachel Atkinson, and performed by members of Waldershelf Singers, the programme included a selection of choral music from The Armed Man by Karl Jenkins. We were delighted to have a 12 piece orchestra of talented local musicians. Piano accompaniment was by Claire McAuley. A drumhead service was performed by young RAF cadets and the Royal British Legion.
A donation was made to the Royal British Legion at the close of the concert.
On Saturday 12th MAY we performed at a pop-up show – part of the CLASSICAL SHEFFIELD Music in the Round week. This took place in the Winter Gardens, Sheffield and we sang a selection of music from our Bolsterstone concert. We received a warm reception – the acoustics there are fantastic! At the end of our set we joined Vivacity choir, conducted By Claire McAuley, and sang Benedictus and L'Homme Armee from The Armed Man – a Mass for Peace by Karl Jenkins.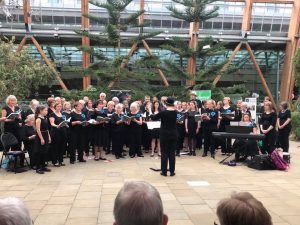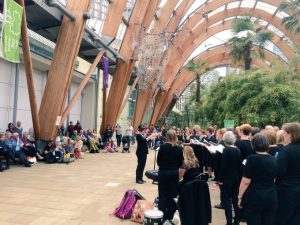 On Saturday 30th JUNE we had a fabulous evening at the Venue, Stocksbridge, singing songs from the Movies and Musicals with Millhouse Green Male Voice Choir and performing to a packed audience. Thanks to everyone who took part on stage and behind the scenes – a memorable night! We welcomed guests from the Stocksbridge Neurological and Brain Injury Rehabilitation Centre, and afterwards were delighted to be able to make a donation of £550 from concert proceeds.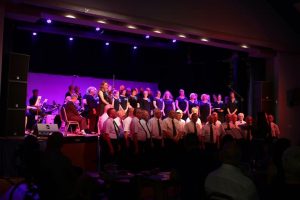 TESCO BAGS OF HELP
Waldershelf was awarded £1000 from Tesco Bags of Help scheme following a vote by their customers during May and June. This was a great boost to help our preparations for the concert at Sheffield Cathedral in October, and we thank all Tesco customers who voted for us. thank you very much
Our concert at Brightholmlee Methodist Church, Wharncliffe Side on 15th September included songs from the movies and musicals. The church raised £257 from ticket sales and raffles.
At the 50th Penistone Music Festival on 29th September Waldershelf performed 'His Eye is on the Sparrow' and 'Skyfall'. We were unplaced in a class in which 7 choirs performed, but it was well worth taking part and being able to listen to a number of excellent choirs.
The highlight of this year has got to be our concert on 27th October in the wonderful environment of Sheffield Cathedral.
Waldershelf Singers were joined by Stannington Brass Band to perform Sir Karl Jenkins' iconic work The Armed Man- a Mass for Peace in commemoration of the centenary of the end of World War One.
Stannington Brass Band, conducted by Derek Renshaw, opened the concert with the rousing Imperial Echoes
Waldershelf Singers, conducted by Rachel Atkinson, sang 3 beautiful and evocative pieces – His Eye is on the Sparrow, In Flanders Fields, and Total Praise, interspersed by 2 poems written and read by Christine Herbert, reflecting on the experiences of her family in the Great War. Stannington Band concluded the first half of the concert with Nimrod (from Elgar's Enigma Variations) and I'll Walk With God – a fitting crescendo ending.
Rachel conducted Choir and Band performing The Armed Man in the second half of the concert. This was unique as it was the first time a brass band has accompanied a choir in the UK for this work. They certainly did it justice, and made the whole evening very special. A truly memorable night!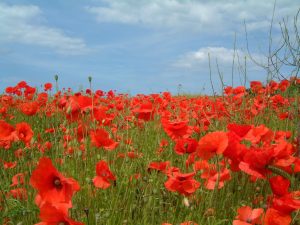 In Flanders Fields (Poem by John McCrae) 1915
His eye is on the sparrow
Total Praise
Three Quiet Men by Christine Herbert
In the blink of an eye by Christine Herbert
We are grateful to all the choristers and musicians, especially guests from Vivacity choir, soloists from both choir and band, and Graham Wilkinson on the organ and Philip Sutcliffe on piano. Also thanks to the Dean and Cathedral staff for their hospitality, and both committees and front of house volunteers for their hard work. Hand made poppies were worn by all the performers, and were sold afterwards to raise money for the Royal British Legion.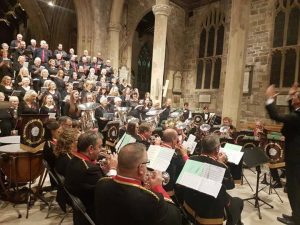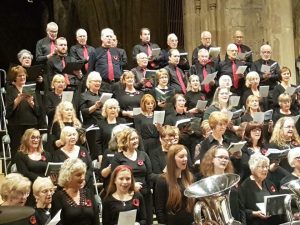 Getting in the mood for Christmas – our penultimate rehearsal before our programme of concerts throughout December:
CHRISTMAS JUMPER EVENING!!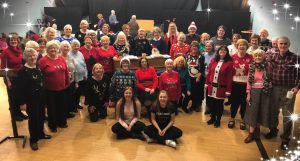 December has been a busy month with a variety of concerts and events.
Our first concert was on the 11th December at St John's Church Deepcar, when we were joined by the children from Deepcar St John's CE Junior School. This is an annual event and is always a fun evening with an audience of parents and families, so the entertainment is jolly and festive.
The highlight was 12 Days of Christmas, with the audience entering into the spirit of the occasion by doing actions to each line. The turtle doves were particularly energetic!
On the 14th of December, on a very cold and frosty night, we joined the Silver Spectrum Wind Band at Wesley Hall, Crookes, for a more traditional carol concert with rousing music and folk carols thrown in
.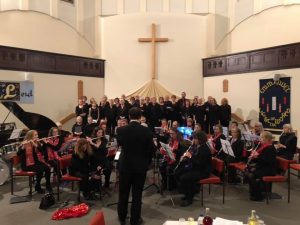 On Tuesday 18th December we held our annual Christmas Concert at the Venue, Stocksbridge with Deepcar Brass Band. Cathryn Rodgers (the Band Musical Director) and Rachel Atkinson (Waldershelf Musical Director) set each other a challenge last year. Cathryn wore a very fetching Mrs Santa outfit. Not to be outdone – in the second half of the concert on Tuesday Rachel appeared dressed as —-A CHRISTMAS TREE!!! complete with flashing lights. The place was in uproar with amazement!
The singing wasn't bad either – and the band provided lots of oompahs and had us all up and down, swaying side to side and clapping. The audience joined in a boisterous performance of the 12 Days of Christmas. There was lots of carols – traditional and local, and medleys of seasonal songs. A special thanks go to Stella (age 8) and Max (age 5) for singing Away in a Manger so beautifully.
Do look at the videos posted on our Recent Posts page, or on Facebook and Twitter.